Post by tai on Mar 30, 2013 1:20:26 GMT -5

MEI YIN LI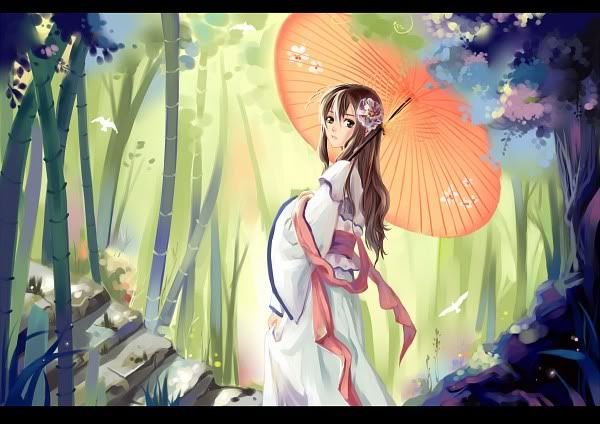 Name:
[/font][/size][/b][/u] Mei Yin Li[/font]
Nickname:
[/font][/size][/b][/u] Ying-Ying (Meaning "Clear Reflection", uses as her Diviner name)
Divina
The Seer[/font]
Nationality:
[/font][/size][/b][/u] Pariter, born in Viridi [Taiwan][/font]
Gender:
[/font][/size][/b][/u] Female[/font]
Age:
[/font][/size][/b][/u] 21[/font]
Social Rank:
[/font][/size][/b][/u] Commoner[/font]
Occupation:
[/font][/size][/b][/u] Diviner, Travelling Fortune-Teller[/font]

Hair Color:
[/font][/size][/b][/u] Dark Brown[/font]
Eye Color:
[/font][/size][/b][/u] Amber Brown[/font]
Weight:
[/font][/size][/b][/u] 53 kg[/font]
Height:
[/font][/size][/b][/u] 150 cm[/font]
Special Features:
[/font][/size][/b][/u] She appears to be younger than her actual age due to her height and the youthfulness of her face. Her clothing tends to stand out in the crowd. Her sleeves tend to be long and flowing, going past her wrists.
There is a loose, wild curly strand of hair sticking out of the right side of her head. It's an annoyance to her.
She also has a tattoo of a flower on her left thigh that she had received in a more rebellious era (though it can be argued that she still lives that rebellion).[/font]

Likes:
[/font][/size][/b][/u]
Supernatural Anything supernatural, really. She is a very superstitious person who believes that she has a knack for fortune-telling and being able to see into the future. To an extent, she does have a bit of foresight, but most of the foresight is just really, really clouded. She loves to pride herself for having a sixth sense... even if she hypocritically looks down upon those who are superstitious. Not sure how that works, but she tends to hide her obsession with the things "beyond". Her whole career is based on her belief in the supernatural.

Food Good food. Though her palate isn't refined, she pretty much loves the way that food can pretty much open up a person at a dinner table and make a person very happy (and gain weight... ugh). If you have to eat to live, might as well like what you're eating. She's a great cook, though she prefers not to be ordered to cook. Of course, due to her occupation, she doesn't always get the chance to cook (due to lack of access to a kitchen most of the time), and she is sometimes forced to run on crappy street food.

Fashion She has an eye for style and loves keeping any clothing that she receives, turning it into a centerpiece if it were something that was simply discarded for being "tacky". She knows how to make things look good. Though of course, she can't exactly have a whole wardrobe of clothing and is limited by the trunk she is able to carry around.

Horseback Riding Though she wouldn't consider herself a cavalry woman, she loves the thrill of horseback ride. Horseback riding is a cooperation between human and horse. The connection between a person and their horse can make them a much better rider. She relies on horseback riding to get around and search for her potential customers.

Flowers Flowers are lovely, natural, and to an extent, tough. Her favorite flowers tend to be mountain flowers, which have to tough through the harsh winds and cold weather. Yet they spring out beautiful against all oppression. Very poetic, eh? She usually wears pink flowers in her hair.

Gossip Shhhh, she does enjoy eavesdropping and getting the latest court gossip (through connections obtains through her clients), and maybe, just maybe spreading it around... for a price, of course. You can ask her about anyone and she'll probably have dirt on them. She just requests you do not reveal your source... or she'll have to take action, of course. After all, she needs the gossip in order to make sure to control what fortunes she gives out... oh, and it makes the fortune telling much easier, heh.

Equality She would prefer you treat her as your equal, even if you are obviously in a superior position to her. She'd love social equalities... even if she knows the world doesn't work that way. Obviously a commoner isn't going to be treated as highly as a noble, but given her personal beliefs, she won't very much like the thought of being looked down upon.

Tea Jasmine tea is a delicious tea that rejuvenates the soul and calms the nerves. With the nervousness that she has pent up, she can't help but feel the need to unwind with a cup of steaming jasmine tea. Tea is also good for readings. She tries to maintain a somewhat constant supply of tea.


[/font]
Dislikes:
[/font][/size][/b][/u]

Perverts An obvious reason, of course. She won't take disrespect and... Well, do you really think she'd want to hit you up if you see her as an object? She does not like being made an object.

Bland Food She has a bit of a tongue for tastes. She won't be taking bland foods... she'll do anything to fix the flavor, including dumping a whole bottle of soy sauce on the food.

Drugs They are part of the mockery of her art. People claim "you'll see visions", sometimes implying she's on something, which is pretty pissy-offy.

Being Dependent She's an independent woman that don't need no man. She would like to keep that status. She hates having to rely on people for things... even if it's obvious that she probably is dependent on people to do physical labor for her. She doesn't admit that she's dependent on people either. She would prefer to call your efforts to "rescue" her as "help".

Being Subject She hates being a subject and ordered to do things. She likes being independent. Of course, in a world where you're the lower class, you're never independent, now are you?

Nonbelievers People who can't take her "divining" arts seriously. It's not funny! Really! She'll only laugh the moment you trip yourself off a cliff or end a relationship with a significant other if you keep ridiculing her.
[/font]
Strengths:
[/font][/size][/b][/u]
Will She has a will of fire, an unbreakable will. If you were to try to get information out of her, think again. The more you torture her, the more you'll empower her to stay true to her word. She simply does not give up, which may as well be her downfall.

Spontaneity She is a very spontaneous person and can come up with plots as quickly as possible. She is very much a strategist and does think things through, just at a speed faster than most people. She'll know how to negotiate her way through things and knows how to get herself out of situations scotch-free. Most of the time, of course. She can come up with BS as quickly as possible and will remember what convoluted stories she has put into people's heads, keeping track of lies and alternate personas that she has referenced.

Foresight Even if a lot of her predictions are total BS (even she knows some of her predictions are total BS), she does possess actual foresight and can actually infer and sense things approaching, which could be worrisome at times. Sometimes, she just prefers to lie about what she knows... especially when she knows that the knowledge she has can shift balances. At a given moment, she can anticipate what a person's next move will be. After all, people are readable like books. People have patterns, no matter how much they deny it.

Loyal She is an extremely loyal person to the cause she supports. Of course, you have to define "supports". You never really know what she truly supports, but she will put her whole heart into what she supports. Her loyalty to her kingdom may or may not be disputable. Of course, you'll never be able to tell if she'd be a defector or not. She holds herself as a Paritan nationalist and an immigrant from Viridi.

Intellect This is something that has steeped her past into something beyond normality, but her intellect is something out of the ordinary. Her speed in formulating plans and solving problems is remarkable, something very valuable. It is a natural intellect that she was born with, but she would much prefer to hide behind a mask of shallow prettiness because you should never
[/font]
Weaknesses:
[/font][/size][/b][/u]
Stubborn She just doesn't know when to say no and give up. Of course, this can be taken as a good thing when it comes to be strong-willed and not giving up, but her inability to compromise proves to be a problem. This keeps her away from reaching her fullest potential as a strategist.

Vain Her vanity gets the best of her. Of course, with the kingdom that she lives in, she can't take her vanity to the fullest extent (legally). She spends quite a bit of time keeping up her appearances, more than she probably should. She does get a bit peeved if there's a flyaway hair or ends up messying perfectly nice clothing.

Indecision Even if she's a good strategist, she has quite a bit of indecision regarding her own personal choices. Perhaps this is due to her always being subordinate to someone, always having a "standover man", but of course she'll assert that she can make her own decisions. She just won't say if she needs help or not.

Worries She is naturally very worrisome and overthinks things. This is why she has such an addiction to Jasmine Tea, something that temporarily calms the nerves. She can't help it though. She has a lot to keep track in her mind, a lot to sort through, and since she's expecting some great prophecy to strike her sooner or later, she can't help but worry what if she predicts something quite awful?

Greedy This girl wants it all. To get to what she wants, to get what she wants, when she wants it, and to get it as soon as possible. Unfortunately, this is never the case. She isn't getting where she wants, she isn't getting what she wants, and she most certainly isn't getting it now. Well then. She'll be goal oriented and try to get where she wants to get. No matter how many people she would have to go through.

Honor A good thing? Maybe. But she never goes back on her word. Which could be a really bad thing. She tends to remember debts and grudges and will call upon people who are indebted to her half a decade later if it really comes to that.

Naive She claims that she knows what's out there, that she knows what she's getting into, that she's experienced the lowliest things, but in reality, the amount she has experienced isn't enough to compare to the horrors of the world. Her eyes haven't experienced what true blood is, what true suffering is. And she'll want to keep herself from the terrible images that the world can offer.

Physical Strength Even if she's supposed to be a fighter, she isn't. Whoops. Well, she can pack a punch, but she's not... fighter material come to say. She can horseback ride and fence, but that's about it. She's been taking to Asian throwing knives as of recently, but that's not a combative force. She can't lug boxes around or anything useful of that sort.
[/font]
Dreams:
[/font][/size][/b][/u]
Be an actual Noblewoman She had always wanted to be the equivalent of an actual princess, but of course, she knows that she will never be that. So, she settles for nobility. She wants the riches, the clothing, the social circles... oh, and she has a thirst for the power. She wants the power to be able to do things that she wishes to do, to grant justice to those who need it, and to reform and take away some of the silliest laws. For one, allow people to wear white because my goodness, white is a staple in a closet. Of course, she won't outright say that, but she really would like power to give justice. She's had enough with injustice and the drama and affairs that the royalty and nobility has, and the only way that she could change anything is to be an actual influential noblewoman. Does she ever want to be Queen of a land? She might want that, yes, but that amount of power is a bit too risky, and so she would rather have an advising position... She'd rather not have to take the demands and awful corruption of the Court.

Great Prophecy She wants to be the one to foresee a great prophecy that would change the land. She doesn't know if this great prophecy will come as a dream or as a vision, but she'll know when it comes, and she'll proclaim it to the world, even if she becomes and Cassandra-like figure. She had always wanted to be a fortune teller and has failed at that, but she knows she has the foresight necessary. Once she finds that great prophecy that will affect the whole land and change things for the greater good, she will very much try her hardest to support the world in the direction it wants to go.

Find her "Brother" Or rather, a certain childhood friend of hers. She had grown up alongside him and had gone onto the mainland with him. Unfortunately, they had been separated due to occupational reasons. He had gone off to adventure and do that manly job he had and she had gone off where the clients are. She sends post to him as often as she can to be able to keep track of where he is and try to follow his trail, but to no avail.
[/font]
Fears:
[/font][/size][/b][/u]
Solitude She fears the thought of being alone again. She is more dependent than she would like to think. She knows that she would be helpless in a fighting stance and she knows that she isn't the fighting force that she wishes to be. She tries so hard, but she just isn't built to be a fighter. Solitude would ensure her demise. It would also make her just as alone as she was before. She simply cannot take that. And of course, it had scared her very much when she had gotten separated from her "brother". She is very determined to find him again and end this solitude, maybe to even go back to Viridi.

Strategies Falling Apart She has everything planned out in her mind, but if everything falls apart, the thread slowly coming out of the scarf, she'll panic and she'll try her hardest to patch everything up. Her plans are supposed to be full proof, and as such, she has precautions taken at every step to ensure success. If a plan falls apart, that's an impediment to a goal, and she can't help but feel awful about it, to ponder... Why? Why did everything fall apart? Her ego is large enough to be able to think that she could outsmart any of the royals and get to where she deserves to be (in many cases, this is true), but when everything falls apart, it's like an airplane falling from the sky. The crash landing isn't pretty.
[/font]

Personality:
[/font][/size][/b][/u]
Loyal
What she lacks in physical strength, she makes up in loyalty and passion. As stated above, it might be questionable where her loyalty is (or at least, not to the people as she will act nationalistic, if not more nationalistically than others) but whatever she is truly loyal in, she will try her to please and to further a cause. If anything, you can say that she is one hundred percent loyal to her values.
Strong-Willed
She knows how to take a hit, knows how to never give up, and knows how to stand up for herself. She doesn't take no for an answer. Mei can be compared to a fire, burning hot and through the night, despite the cold and the threat of dying out. She'll stay up, she's not going down without a long, hard fight.
Indecision
Because she has always been under the watchful eye of another, always subordinate, always having a "standover man", she has a bit of trouble deciding things for herself, despite being a strategist. This is a personal issue and not a logistical issue... though she knows the destination. She's just a bit iffy about picking the path to the destination.
Independent
She's an independent woman that don't need no man! She goes things her own way and won't take any crapola from other people, and she'll fight. She's a feisty one... of course, she does have a bit of a reluctance when she fights back, but once you get the train started, there's no turning back and stopping. You're going to get run over. She likes things her own way.
Cheerful
It can be described as a "disposition". She keeps a cheerful demeanor that can either be contagious or enlightening. Or annoying to those who simply do not feel good about themselves. She keeps a smile at all times, which is a proper mask a lady should have. Even if they don't feel like smiling.
Sensible
She may have some "unrealistic" goals at the moment, but she knows her place in society. She's a mere pawn, but she could dream. She knows when to keep her head down, even if she would prefer not to keep her head down. Sometimes a lady must be honorable and not stand up and yell, after all.
Two-Faced
She knows that she is two-faced, that she has one mask and another. One mask is that of the obedient commoner woman from Vridi, a Paritan nationalist who loves her newfound home. The other mask is of the revolutionary young woman that would like to achieve her dreams, even if a bit deviant. The other mask is of a woman who wishes for power, to prove self-worth, and to transcend the boundaries of the kingdoms. The woman who humors herself with the gossip of the court. She can lie to you with a smile and she will never reveal her true loyalties. And you simply won't know. It's hard to read her once you decide to read her. People just don't take the effort to read her because there doesn't seem to be a point in trying... after all, what can a weak commoner like her have to offer?
Gossip
She has a knack for collecting gossip and dirt on other people. If you asked her, she would probably have a whole bag of dirt on a person. She'll tell you... for a price, of course. And the promise that you will not reveal your source. She knows how to get her information, and she's a sucker for it too. She loves spreading gossip around and seems to be reliable enough that it's all believable. It's quite fun, being able to manipulate them... and you never know who starts the rumor, now do you?
Worrisome
It's a side-effect of a history of being on the edge and pushed to it. When the stakes are high and you have much to lose (or even when she didn't have much to lose), she worried very much. Her nerves get the best of her and it's very easy to startle her, which is why she must always have a tea break at a certain time.
Blunt
She's a bit smart-mouthed and blunt with her words, and sometimes she forgets to turn her empathy on. At some point in her life, she really has stopped caring about how people would take her words. Her bluntness can cause problems when she doesn't know the effect of those words... and not like it hurt saying such things.
Rebellious
She hates being dependent, but she knows she's dependent. She hates the "standover people", those that order her, making her feel smaller, "standing over her"... Well, she's had enough with feeling smaller. She would like to feel a bit bigger, even just for a moment. She would like to transcend boundaries and reach places that she is barred from.
Grudge-Holder
She doesn't let go of her grudges... she never forgets a debt. This can work in several ways. She will never forget if she was indebted to you and would faithfully repay that debt as soon as she can. She never forgets if you owe her a debt, and she will make sure you repay that debt when she needs you to. She also would remember old wounds and will make sure you pay. She holds in her hatred, but she'll make it known when she needs to.
Vain
Her vanity is awful. She cares too much for appearances and will most certainly worry about that factor. She can't help it, though. A woman can't help but wish to feel beautiful in her own skin, after all.[/font]

History:
[/font][/size][/b][/u] Mei Yin Li was born on the small island of Viridi, away from the trials and tribulations of mainland life. The island was peaceful and you could simply not care for things like war and famine. What's more, the island is self-sufficient and you didn't need to venture out and rely on other lands for necessary goods. You need not worry about the terrors that ravage mainland, for the island is a small piece of paradise. What you worried about was which tree was the most difficult to climb, how the tide was on the beach to make sand castles and how warm and clear the water was. She really had not a care in the world, despite her parents' disappearance from her life at an early age.
The people in her life were her grandmother and her childhood friend who she considered a brother, Kasem. Of course, she cared for many others, caring for the rest of the small island populace, but it was those two that kept her grounded to the island.
Her grandmother was the island's healer and diviner who was born in Pariter and had fleed to the island during a time of war. She set up shop and simply took on the role of being an important part of island life. She happened to have access to books of other lands, the ones that she had brought along with her as a young refugee. She taught her granddaughter in the literary and healing arts, teaching her much and expecting her to take on her role in the future. Mei would become skilled in making all sorts of medicines, poisons, poitions, and antidotes, similar to the skills of an alchemist, though with the intention of healing. She also developed a bit of a superstitious mindset and had picked up some divining practices from her grandma.
Kasem was a childhood friend who she truly admired and looked up to. The two of them are four years apart. She had always seen him as the big brother she could always turn to for a smile or adventure. They would grow up together, going on adventures on their little island, wasting the days together as two children should. However, after a while, you grow up and realize that you need to go somewhere new. Mei had always had her heart set just a little ways from home, dreaming of visiting the three capitals of the Prosperous Three mentioned in her books. Of course, she knew that there was a bit of tension when it came to those countries. She would have to cross through Medius if she ever wanted to achieve the goal. After all, she didn't exactly have the desire to cross borders unecessarily with the other kingdoms. It would be a safe plan, wouldn't it? To be a Viridian native and cross borders with caution, care, and respect? She would much rather travel than stay in the safety of Virid, that was for certain. There was a bit of protest from her grandmother, but she let her go on the condition that her journey be productive and that she would return someday. Mei obliged and had taken on the status of a travelling healer, diviner, and amateur alchemist, offering services in healing, fortune telling, and concoctions.
And what, might I ask, is a journey without companions? One should not travel alone, after all. She turned to Kasem for companionship. They would set off as a dynamic duo with some career goals in mind to keep money in the pockets. To keep a degree of safety in some areas, they would pose as actual siblings, which they soon would use as a backstory for anyone who asked. He worked as a mercenary, a sell sword who offered his services for pay. She simply healed him when necessary (which worried her upon end when he had stifling injuries) and sold her various services wherever she could find employment.
They had split paths on account of these career choices. He had found a small militia going to offer services in Medius to work with for a bit with good pay and even some nice room and board (and a handsome looking uniform). She was most certainly not interested in joining a militia with him or becoming a militia medic, and so opted to continue practicing healing in Pariter, having found some good work in Pariter as an elderly noblewoman's doctor. The noblewoman had grown unfit for the stresses of the courts and had moved to the Paritan countryside. It was a good, easy job and the noblewoman had some nice pay for services. She had lost her son in battle and had no grandchildren to spoil with the rest of her money, so she would be giving her riches to her servants. Mei was not the one servant that the nolbewoman favored above all and was going to bequeath her title to. However, she did receive a bit of a nicer wardrobe and a tidy sum of money at the end of her tenure, when the noblewoman finally passed on.She was allowed to continue living in the manor after, but at this point, she knew it was time to move on with the next leg of her journey. Her time in Pariter was longer than expected.
She had kept correspondance with Kasem and noted down locations he had been, and so has began looking for her brother, trying to find a way into Medius. She knows she needs to find Kasem soon and finally complete her journey. After all, she has a promise of returning to Viridi eventually to uphold, but not before she visits Medius and Penuria.[/font]
Additional Information:
[/font][/size][/b][/u] Her foresight skills are real, just a bit fuzzy at times. She can sell you a potion, but her potions aren't usually the work of alchemy. Hers are pretty much boiled herbs mixed to either heal you or poison your enemies. Anything else typical of alchemists, she really can't do. She's no magician.[/font]
Roleplay Sample:
[/font][/size][/b][/u] It felt good, the white sands beneath her feet, as she stepped off the ship. The salty sea air and the calming breeze rustled through the island, rocking the trees back and forth, back and forth, back and forth, as if rocking a child into sweet dreams. Sweet dreams... Oh, nainai once told her that it was old Mr. Chou that was the gatekeeper to the dream world, that old Mr. Chou would open the doors to a paradise for her if she stayed a good girl and thought good thoughts. But she never needed to find paradise in dreams in those days. She already lived in paradise, where the sand was white and clean like the wool of a sheep, where there were trees to climb like the spires of the castle in the capital, and where there was crystal clear water to swim in, where you could see the bottom and touch the friendly fish with the tip of your finger.
This was paradise. A paradise she hadn't seen for the longest time. She wanted to run right into paradise and climb to the top of that tree she had fallen off of once, to see if the sea shell she had left in the hole was still there, but... she knew it. She just couldn't. She wasn't allowed to stay for very long. She would have to leave paradise as soon as possible. A place she never wanted to leave. A place that, even if small, didn't feel like a cage. Pariter was a cage and she was merely a bird. She was merely a puppet on a lone string. But here, she was free... free...
She walked a lengths ways to find the hut that she grew up in. It seemed a bit well kept, none of her fellow Viridians taking over the hut. It was in their nature not to touch the huts of those long gone or deceased. It was so that even the spirits would have a place to stay. They weren't going to dishonor the home of their once and great healer.
The stacks of books were untouched by nature, just somewhat dusty upon the palm wood table that her father had built long ago. In the corner, there still was the leather trunk that was her mother's... she opened it to find the silk dresses she had once worn but wasn't allowed to bring. She scavenged through it to find... a simple necklace. A white shell, carved into the shape of a small key. She took it and put it in her pocket.
She took a couple of the books and her grandmother's deck of cards. She hid the cards in the same pocket. She would have brought the whole chest, but there was only so much you could bring. There was only so much she would be able to carry.
She still remembered the rain waters that poured on the island they day she had departed. She would have to depart again, but this time, in the light of the sun.[/font]

Alias:
[/font][/size][/b][/u] Asu[/font]
Age:
[/font][/size][/b][/u] 15[/font]
Experience:
[/font][/size][/b][/u] 2-3 years[/font]
Additional Information:
[/font][/size][/b][/u] Erm... hello there~[/font]

Credits:
[/font]
Application Code made by B and C. Lyrics by Temposhark, song "Don't Mess With Me"[/font][/center]